---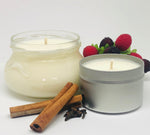 What better way to embrace the season than with the warm and inviting scents of soy candles? ZuZu Candle Co's collection of fall soy candles is the perfect way to cozy up your home and create an ambiance that will have you feeling relaxed and comfortable all season long.
Made with 100% natural soy wax, our fall candles are free of harmful chemicals and pollutants, ensuring that you can enjoy the benefits of a clean burning candle without compromising your health. Each candle is carefully crafted using only the highest quality combination of essential and fragrance oils, ensuring that the scent is both long-lasting and true to life.
Our fall soy candle collection features a range of scents that capture the essence of the season. From the warm and spicy notes of cinnamon and clove to the crisp and refreshing scents of apple and pumpkin, our candles are designed to evoke the feeling of fall in your home.